Thanks for visiting JBakerWebDesign.com!
Supporting a variety of clients, I'm dedicated to creating customized and innovative web site designs. I can assist with a new design layout, logo creation or implementation. I write hand crafted and valid
HTML
and
CSS
code in keeping with
W3C
web standards and guidelines. Perhaps you already have a site and are looking to re-model? Or you just need help updating existing content?
These days, a strong presence on the web is most critical, so your work is never done. I advise everyone to view their own site more often than their intended audience. Always with a critical eye, always updating, never letting the cobwebs form. I can help guide and assist you...

Specializing in the web site needs of the individual or small business, I currently support clients in Florence, Italy, Greenwich, CT, New York and North Carolina. After commuting into New York City for 14 years, I decided to strike out on my own. Most recently, I was an Associate at
Morgan Stanley
, acting as an IT Project Manager working on software rollouts, training on the desktop, Intranet coordination and design as well as disaster recovery assistance. View my
LinkedIn
profile. I customize every project to suit the needs and wants of that client, recognizing that a cookie cutter approach doesn't always apply when working through such a personal creative process.
If you think I can help enhance your web presence, please contact me today!
The following pages show a selection of my current projects. I have included brief descriptions of each, along with the skills utilized to implement each design.
Click next to continue...

Pristine Pools of Greenwich
is a pool service and maintenance company serving Greenwich, CT and Fairfield County. Owner managed and operated, Jason Frost personally handles all customer service requests no matter how large or small. Earlier this year, Jason was looking for a fresh new look for his online presence. He wanted a design that was clean and professional. This is a Phase 1 implementation, as he'll be looking to add more such as photo galleries as his business grows.

The
Greenwich Point Conservancy
is a non profit organization that was formed by residents concerned about the deteriorating condition of historically important structures on Greenwich Point. They already had an existing web site that itself was in need of some renovation and repair. I created new graphics, logo, navigation, footer, background and photo galleries. I also implemented PayPal functionality which enabled them to accept donations and payments for their annual summer fundraiser.

Celebrate and learn to 'Live Green' at this two day fun filled festival for all ages.
Live Green Connecticut!
had it's inaugral year in September 2010. They needed a brand new web site that could then be easily updated and modified by the event's organizer Scot Weicker. So, with that in mind, it was easy to make the decision to utilize WordPress. Getting its start as a simple blogging platform, WordPress has evolved into a powerful content management system that is leveraged by millions worldwide.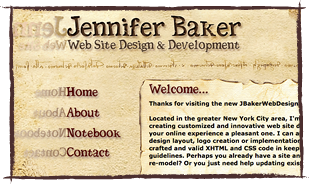 Design & Layout
XHTML
CSS
Javascript / jQuery
Dreamweaver
Photoshop
Illustrator

Inspired by my trips to Italy and the great Leonardo da Vinci, I created this incarnation of JBakerWebDesign.com. I drew much inspiration from the wonderful colors and textures he used in his famous notebooks. Also, as a fellow southpaw, I couldn't resist including some of his fun mirror writing. With this site I wanted to present my content in a unique way that requires little scrolling by the viewer. As a result, this is my first entrée into using jQuery to implement this content glider.
Tor Newcomer
has been performing in the New York, Connecticut, and New Jersey area since 1981. Earlier this year, Tor wanted a complete re-design of his site to give him a more sophisticated look and appeal to a broader audience. We implemented Javascript slideshows to highlight his performance history. Also, we gave him the ability to update his performance dates with an integration to Google Calendar.

The Short Bus
is a multi award winning, Fairfield County based cover band. They were looking to re-model their site to help further promote their marketing needs and stay in better contact with their fan base. When designing, growth was kept in mind as well as a degree of wackiness that was requested. With extensive use of Photoshop, various fun elements were placed throughout the site, one of my favorites being the flying bus on the home page.

Post Wines and Spirits
, owned by Randy Caravella, is a family run business located in Cos Cob, CT. Randy is looking for a brand new site and this project is currently in progress. I've created a temporary page for the business, which helps direct customers to the brick and mortar store. When starting anew, it's always best to have something out there while the client completes the daunting task of compiling site content for the very first time.

Lisa Bologna, a Greenwich, CT artisan and the owner of
Articrafts
was looking for a complete re-design of her web site years ago. She wanted something that was welcoming, reflected more of her personality and better showcased her work. One way we accomplished this was by using Javascipt to create dynamic slideshows which the viewer controls. Lisa has changed to a Wordpress site now, but I like to still include this being one of my first designs and a sentimental favorite.